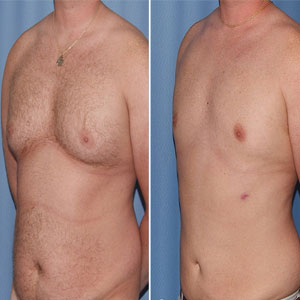 Gynecomastia is a common problem among 40-50% men, in which there is an abnormal increase in the size of the tissues of the male breast, which can result in enlarged breasts. This problem can occur at the time of hormonal changes during puberty. However, it has been recorded that 75% of such cases get resolved on their own, within the period of 2 years after puberty and that too, without any medical help. But, there are some of the rare cases as well, where the man didn't find any ray of hope for reducing the size of the breast. At that time, Male Chest Reduction surgery comes to the rescue.

In this surgery, the excess fatty tissues that trigger the enlargement of the chest are removed via Liposuction and by cutting off the extra- glandular tissues. Since there have been many success stories of the Male Chest Reduction Surgery, so many men are getting inclined towards this procedure who are fed up of the overly enlarged breasts. By undergoing this surgery, you can attain various benefits, like the flat & firm contour of the chest, overall improved tone of the body. The good thing about this surgery is that you wouldn't have to hear any taunts from the people.

Anything negatively abnormal in the body attracts more attention of the people as compared to any other thing. And, as far as the enlarged male chest is concerned, so if you are suffering from this problem, then you surely would have experienced many giggles and taunts behind your back indicating towards your more feminine look. But, once you have decided to undergo the Male Chest Reduction surgery, then you would be able to shut everyone's mouth that passes useless remarks on you. So, get an amazing shape and outline of the chest by undergoing this procedure today!